After months of procrastinating, I finally decided to sit down and blog about my impromptu weekend trip to Bali in December 2015, the week just before Christmas.
It all began with this photo.
Lo and behold, I ACTUALLY WON.
I was speechless. Absolutely stunned. But so very excited! I immediately emailed them accordingly and they called me up. They gave me 2 of the earliest flights to choose from and so I picked the earliest one which is a 4 am flight the next day. Next, I had to make sure my friend, Ohn could make it too. So I called her up and told her I won. She was just absolutely thrilled as well!
I immediately went to grab my luggage and started packing. While packing, I was wondering how to tell my mum. At that point in time, I didn't think she'd oppose or anything. However, I was wrong. She was rather firm on not letting me go.
But, I had to. It was the one and only time I would get this opportunity to travel for free. Flights and accommodation for 2 roughly add up to probably about 1.5k based on last minute rates? Honestly, what are the chances of ever winning something like this again? Hence, I took a leap of faith and went for it.
Met Ohm at the taxi stand outside CityVibe to catch a cab to Changi Airport for our flight at about 2.15am. Reached T2 at about 3 am, checked-in and went in to wait for boarding.
Even at the airport, we couldn't believe that we're actually doing this without a plan. It was the most reckless thing I've done, ever. Well, we're both 21 now. So I guess it's time to do something we've never done before (':
We tried to get some sleep on the plane (at least, Ohm did) as we were expecting a full day of walking and exploring in Bali. We got the seats next to the emergency exit so we had EXTRA legroom! Though we don't really require it... hahaha.
After landing and clearing customs, we walked out and saw taxi drivers were ALL wearing blue and asking if we needed a taxi. Luckily, we arrived about 7 am in the morning and there weren't many drivers gathered there at that time. We just ignored them and walked towards the Arrival hall on level 3, based on what we read from an
online source
warning tourists of the exorbitant taxi prices when taking a taxi from the airport. Still, we got pestered by a guy in a blue shirt. I think he knows we were trying to get up to the arrival hall and kept stopping us. He even showed us an ID card of some sort. But I doubt it was legit. Somehow I stopped and decided to negotiate with him a price to Seminyak. At first, he quoted $25 USD PER PAX. I was like, hell no and I walked away. Then he asked how much am I willing to pay. So I said 100 000 IDR (based on my research if going by meter taxi it was about this price). He shocked his head and said too low. Then began lowering his price. Ultimately, I bargained till 150 000 IDR. I believe it could have been lower, but I was slightly panicky at that time and so I agreed. The guy led us to the car park where many other "taxis" were waiting. Our "taxi" was actually a car.
Just as we got on, I needed to make sure the amount was correct so I repeated: "100 to Seminyak yes?" And he nodded in approval. The whole way there I was just thinking in my head, "Please let us get to the hotel safely." I couldn't let my guard down for a moment when I was in the taxi. We just kept our eyes open and looked around the surroundings trying to see if we were headed in the correct direction. Didn't manage to save an offline map on Google Map so I couldn't track our location as we didn't think there was a need to purchase data.
Thankfully, all was well. The driver dropped us off at Seminyak Square and we paid him the amount we agreed on and left. We had to find our way to the hotel, but without google map, it was a little hard. Luckily, the area around Seminyak Square had international chains like Starbucks and Guardian. Hence, we went into Guardian, Ohm purchased a bottle of water and we asked for directions to
IZE Seminyak Hotel
. The shop assistants were really friendly and pointed us in the right direction. We walked for about 5-10 minutes before reaching the hotel.
Got ourselves checked-in but the room wasn't ready since it was only 9 am when we reached. Hence, we decided to just hang around and explore the hotel since there was free WIFI everywhere (:
I really love the design of the hotel. Everything was so sleek and modern yet they have corners that are cozy and just nice for slacking around.
At about 11 am, when we were about to leave the hotel to get lunch, the staffs told us our rooms were ready, so we went to check out our rooms first.
Look how beautiful and huge they were! Loving every single bit of it! They even have a small sofa to lie and snuggle there. The room was just perfect (: We end up lazing in the room and enjoying the aircon for about 1h before heading out for lunch at 12 pm.
Finally left the comfy hotel room to look for lunch. Headed to Seminyak Square and decided to have lunch at
Black Canyon Coffee
. Whenever in Indonesia, I'll always be on the look out for this cafe. The food's awesome and fairly reasonable as well! And on top of that, the ambiance of this outlet is just splendid (:
Total cost for the meal was 147,000 IDR for the both of us, amounting to approx SGD $7.60 per pax.
After the satisfying lunch, we walked around Seminyak Square as well as the shops along the road.
Love walking around Seminyak! Their architecture are all so unique and pretty! The cafes look so good too but pricey, though. Being budget travellers, we decide to skip them and just take pictures instead.
Walked around for awhile before deciding to head back to the hotel to rest and escape from the heat.
Stayed in the room for about 2-3 hours, where I witnessed Ohm falling asleep while watching TV. Haha. During this time, it was raining heavily outside, so it was a good time to stay indoors to avoid the rain.
After the rain stopped, we decided to head to Seminyak Beach, which was about 15-20min walk from the hotel.
It was so windy there but the view wasn't what I was expecting. The waves were huge and the beach was rather dirty. Probably cause it was monsoon season in December?
Left the beach and headed to Seminyak Village, which was just beside Seminyak Square. This is a newly opened shopping mall which has local as well as international brands. Not a very big shopping mall but it has cafes and restaurants as well. Saw this place on the 3rd level and we went in.
They had small little stalls which sell different items and even dessert! We saw a stall selling doughnut gelato and we bought one to share one. It looks so cute!
There were these push-carts on the ground floor as well. Although all the items were rather expensive.
After walking around for a bit, we looked around Seminyak Square again for dinner, since the cafes were too expensive and we were on a budget.
Saw Aviary Cafe, which was near Black Canyon Coffee and we went in.
Aviary Cafe Menu
There wasn't anyone around when we arrived so we practically had the entire place to ourselves. Loved the ambiance here as well (:
Ohm ordered Fish and Chips and I ordered Chicken Gordon Blue with Mushroom Sauce. I must say the food does taste decent for the price paid! And the staffs was really friendly as well!
After dinner, we headed back to the hotel to chill.
On the way back, just outside Seminyak Square we came across these food trucks/vans! It was so interesting and the vans were really cute as well!
Headed up to the hotel's poolside and there was a nice area where there was music playing and we could just relax by the Christmas tree (:
Turned in early for the night as we were both tired from the long day we had since 3 am in the morning.
Day 2 (20 Dec):
Next morning, we woke up at about 8 am and had breakfast at the hotel's restaurant/cafe on the ground floor. I totally fell in love with the design of the restaurant/cafe!
We headed out onto the streets and tried to grab a Blue Bird taxi to fetch us to Uluwatu Temple. However, it was hard to do so as almost all taxis were blue... So we just went with the next one that came by. Negotiated a price (450 000 IDR) with the driver and he immediately agreed on the price we asked for. Based on hotel taxi rates to Uluwatu, 6 hours charter would cost us 840 000 IDR. So 450 000 IDR for 2 way transport to and fro Uluwatu seemed reasonable to us. We boarded and began our 1h drive from Seminyak to Uluwatu Temple.
The weather had been really bad the previous day so we were hoping today would be better. However, it began pouring on the way to Uluwatu and we got worried.
Turns out, our worries were uncalled for. When we arrived, the sky was clear and the sun was shining brightly. We bought 2 entrance tickets (20 000 IDR per ticket) to the temple. The ticket includes rental of Sarongs, which is compulsory if you would like to enter the temple.
We were greeted by a gorgeous view of the ocean as we headed towards where the main crowd gathered.
We decided to walk along the coast to get a nice view of the temple from the opposite side. Saw a group of monkeys but we just slowly made our way past them, holding on tight to our handphones and belongings, keeping in mind that the monkeys are known to grab people's belongings.
Suddenly the monkey above came behind Ohm and grabbed one of her slippers. Ohm was trying hard to pull it back but the monkey was so strong and he even snarled at us when we tried to get it back. You have no idea how scary a monkey's snarl is until you experience it yourself. We just froze and let the money take the slipper.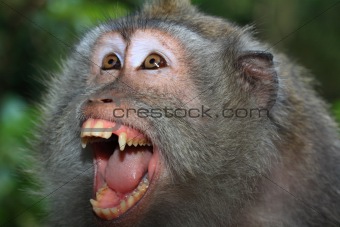 Picture credits: http://www.crestock.com/
It was almost like this picture. Just that the eyes of that monkey was so much more ferocious.
You can see in the photo above that the monkey has Ohm's blue Havaianas and it isn't letting it go at all. We could only wait for one of the temple guides to help get it back.
We waited for quite some time and as other tourists walk past, they were taking photos and Snapchatting this incident as well. We just laughed along with them even though we were still in shock.
Luckily, the guide traded the bananas with the monkey and it finally let go of the slippers so Ohm was able to get it back. And so, we continued on our trail along the coast. The view was just breathtaking.
Had to make weird faces cause the sun was too bright for us to open our eyes properly :P
Storm clouds approaching
After walking for about more than an hour, we head back to the car park where our driver was waiting for us. We decided to head back to the hotel first before having lunch since we were both mentally drained from the monkey attack. We asked our driver if he wanted to fetch us to the airport the next day for our flight back home at a price of 120 000 IDR and he readily agreed.
We realized we had to clear our instant noodles we bought at the convenience store yesterday and so we decided to settle lunch in the hotel room.
After recharging for a few hours, we headed out onto the streets for more walking and exploring (and more photos of course).
Seminyak's boutique shops are absolutely stunning, both inside and outside.